Yoga Therapy
Individual and Group Sessions
~Blending Eastern and Western modalities of therapy, and may include:
talk therapy
pranayama (breathe work)
asana (yoga poses)
guided meditations
chakra/bioenergetic work
mindfulness practices
~Interventions used will be tailored to meet the needs and desires of each individual client and/or group.
~Good for mental health and physical issues.
Private & Small Group Yoga Classes
One-on-One Yoga Instruction
~Good for those who want to target specific aspects of their practice and have a routine that is customized to their needs and goals, or for those not yet comfortable in a group setting.
~Practice in the comfort of your home, or in a fun and beautiful location (i.e. park, beach).
Small Group Private Yoga Classes
~Tailored practice to meet the desires and goals of the group.
~Good for a group of friends new to yoga who are not quite ready to join a studio/big class, but still want a group experience.
~Fun for a celebration (birthday, anniversary, bachelor/bachelorette party).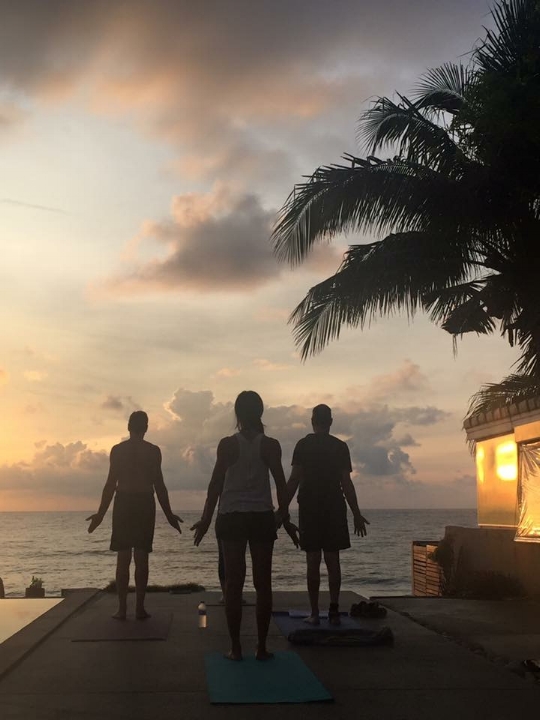 Corporate & Staff Yoga Classes
~Great for team building, workplace moral, and introducing and maintaining overall staff wellness.
~Mixed level instruction that meets the diverse needs of a large group, adjusting to both the novice and experienced yogi.
~Can be combined with professional seminars, training, and team-building workshops.
Academic and professional trainings
~Didactic and experiential trainings on the history, benefits, and practices of yoga as a tool for health and wellness, community and team building, and in the therapeutic and mental health professions:
Yoga for Self Care and Healing
How Yoga Heals: Yoga for Trauma and PTSD
Yoga for Youth in Mental Health
Thai Yoga Bodywork
~Traditional Thai Bodywork practice of "metta"- loving kindness, as a moving meditation utilizing pressure and massage on the Sen Lines to stimulate the movement of energy in order to provide healing and wellness.
~Utilizes a combination of pressure, massage, energy work, and assisted stretching.
~60 and 90 minute sessions available.